Gypsum Board Production Line (Gypsum Board Equipment)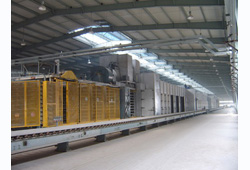 Gypsum board is mainly made up of nonflammable gypsum core and external paper plies. It has the features of fire resistance, good sound insulation performance, high durability, versatility, among others. Gypsum panel is extensively used in internal walls and ceilings of buildings.
Our gypsum board production line is specially designed to manufacture high quality gypsum board, with improved process efficiency.
Advantages of Gypsum Board Production Line
Our gypsum board production line features high level of automation and high production capacity.
The optimized process and design could increase the mechanical strength of gypsum board.
The well developed technology could ensure paper and gypsum bonded together firmly.
The quality equipment and configuration could develop a harder board edge and accelerate curing rate.
Our gypsum board production line yields more light and flexible boards.
Manufacturing Process of Gypsum Board
1. Material batching
Raw gypsum should be grinded into fine pulver and calcined first. Then, certain amount of water and additives are added into the semihydrate gypsum and the mixture is conveyed to a pin mixer in the front of the board forming line. The additives include starch, accelerant, forming agent, and so on.
2. Board moulding
The slurry produced in the pin mixer is conveyed and spread between two paper sheets that serve as a mould. The edge of the paper sheets can be scored and chamfered according to specific requirement to form the edges of the board.
3. Board drying
Since the board delivered out from the moulding section is wet, it should be conveyed to a dryer. When the gypsum board is on the conveying line, the calcium sulfate hemihydrate combines with the water in the slurry to recrystallize and rehydrate, reverting to its original rock state to give a rigid board. The board is then sent to a multilayer kiln dryer and is dried by direct contact with hot combustion gases or by indirect steam heating to remove any free moisture.
4. Sawing and trimming
The dried board is then conveyed to the board end sawing area where it is trimmed and bundled for easy delivery.
Technical Parameter of Gypsum Board Production Line (Gypsum Board Equipment)
| | |
| --- | --- |
| Item | Parameter |
| Production Capacity, m2 /a | 2 - 50 million |
| Product Specification, mm3 | L1800 - 3600, W900 or 1200, T9.5 - 25 |
| Product Variety | Common, fire resistant and water resistant |
| Fuel Variety | Coal, fuel oil or natural gas |
| Product Standard | In compliance with National Standard |
As a leading manufacturer of gypsum board production line in China, we have rich experience in producing gypsum board equipment. We not only provide the state-of-the-art quality equipment, but comprehensive technical solution packages. In addition to manufacture gypsum board equipment, we also provide sandwich panel equipment, roll forming machine, cranes, etc.
If you are in need of high quality, cutting edge gypsum board production line, please feel free to contact us.