Eco-Friendly Fiber Blanket Equipment
The eco-friendly fiber blanket equipment mainly uses plant fiber such as rice straw, wheat straw, corn stover, weed, linen, coconut coir as raw material, and the plant fiber blankets are produces by decomposition, mixing, laying, stitching, cutting and rolling.
The plant fiber blanket can keep the water from evaporating, and has good sun protection and anti-rain wash performance, which is conducive to creating a rapid germination environment and forming vegetation. It is widely used in railway and highway slope protection, landfill ecological restoration, mine reclamation, slope greening, desert management, urban greening, etc.
Equipment composition
The plant fiber blanket production equipment is a automated production line consisted of raw material processing and conveying system, straw decomposition and conveying system, mixing system, transmission system, laying system, stitching system, cutting system, rolling and packaging system, dust removal system, waste recycling system, electrical control system, etc.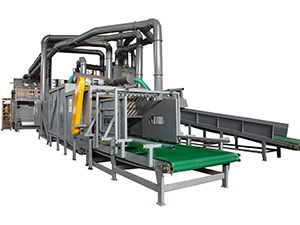 (1) Raw material processing and conveying system: This part is composed of unpacking conveyor, stripping conveyor, oblique conveying and disintegrating machine and blower conveying system. It is a decomposition and conveying equipment for palm fiber.
---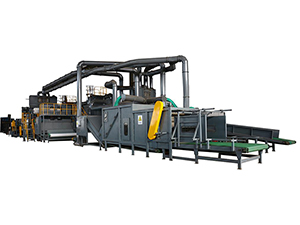 (2) Straw decomposition conveying system: Its function is to decompose the pretreated straw again and send it to the straw box in the mixing chamber.

---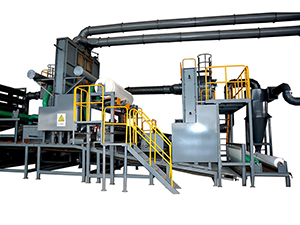 (3) Mixing system: The function is to mix two different raw materials and send them to the laying box.
---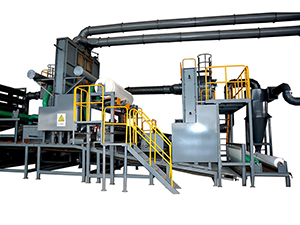 (4) Laying system: This equipment is used to make the raw materials into raw felt and cover it on the net, the special paper, nutrient soil, additives, grass seeds can be covered as required, and then transport the raw felt to the stitching machine.

---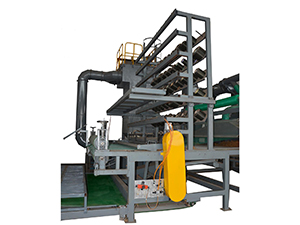 (5) Stitching system: Used for threading and stitching the raw fiber blanket. The raw fiber blanket sent from the laying system is transported by pressing roller to the stitching mechanism to complete the stitching operation.
---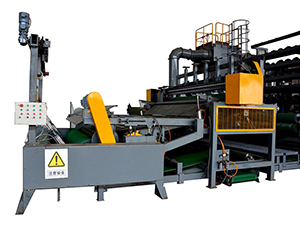 (6) Cutting system: Used for horizontal and vertical cutting of fiber blankets.
(7) Rolling and packaging system: Used to bundle and package plant fiber blankets.

---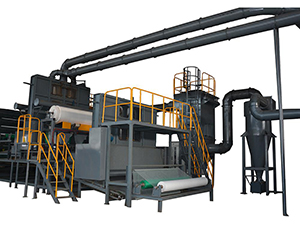 (8) Dust removal system: The dust suction points of the system are connected to the cyclone dust collector through the pipeline, and then connected to the bag type dust collector. The exhaust gas is discharged by the fan.
---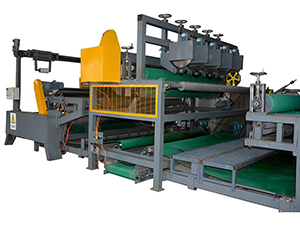 (9) Waste recycling system: This system can transport the broken fibers of the stitching machine, cutting machine and packaging machine to the outside of the equipment.

---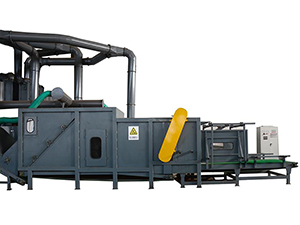 (10) Electrical control system: The electrical control system consists of three electrical cabinets that control separately the raw material section, the laying and stitching section, the cutting, rolling and packaging section. Each part has the manual-automatic conversion function, using frequency control, PLC control and touch screen operation.
Parameters
(1) Main equipment size (LxWxH): 36m×3.6m×6m
(2) Installed power: 166 kw
(3) Sample size (LxW): 30m×2.5 m
(4) Sample thickness: 8 ~ 50mm
(5) Product density: 300 ~ 2000 g/m2
(6) Sample capacity: ~ 1200 m2/h
(7) Power supply: 380V/220V, 50Hz
(8) Air source: 0.8 Mpa
In terms of production, different grass seeds (or without adding grass seeds), shrub seeds, nutrients, water retention agents, etc. can be added according to customer requirements to produce different fiber blankets. For example: single fiber blankets, hybrid fiber blankets, grass seed free fiber blanket and grass seed fiber blanket.